Tascosa High School
Class Of 1972
In Memory
Woodie Matheson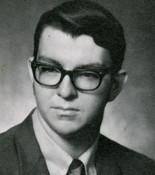 Woodie Ray Matheson
Posted: Friday, October 26, 2007
Woodie Ray Matheson, 53, of Amarillo died Tuesday, Oct. 23, 2007.
Services will be at 11 a.m. Saturday in Trinity Fellowship Church North Ministry Center with Jerry Davey, minister, officiating. Burial will be in Llano Cemetery East by Cox-LaGrone Funeral Home, 4180 Canyon Drive.
Woodie was born Oct. 27, 1953, in Amarillo, was raised here and was a 1972 graduate of Tascosa High School. He married Sarabeth Farnan on Aug. 13, 1977, in Amarillo.
He was co-owner with his sister of A & W Transfer/Bekins Moving and Storage, the business that his parents, Lowell and Nelda Matheson, started in Amarillo in 1953.
He loved his family, friends and traveling. He loved the outdoors, fishing, hunting and snow skiing. He loved life and taking risks.
He was involved with Make-A-Wish for many years and loved to barbecue competitively, especially with his "Bekins Best" barbecue team.
Survivors include his wife, Sarabeth Matheson of Amarillo; a daughter, Amanda McDonald and husband Bill of Amarillo; a son, Marcus Matheson of Amarillo; his mother, Nelda Matheson of Amarillo; two sisters, Pam Matheson Gonzalez and husband Juan of Amarillo and Luann Wagnon of Richardson; two grandchildren, Benjamin and Olivia; and three nephews, Eric, Wesley and Brandon.
The family suggests memorials be to Make-a-Wish Foundation of the Texas Plains, 411 S. Fillmore St., Amarillo, TX 79101; or ADVO Companies, P.O. Box 51744, Amarillo, TX 79159.
The family will be at 4203 Charles St.
Amarillo Globe-News, Oct. 26, 2007