Tascosa High School
Class Of 1972
In Memory
Kelly Morris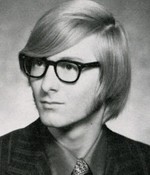 OBITUARY FOR KELLY BLAIR MORRIS
AMARILLO GLOBE NEWS
THURSDAY APRIL 28, 1977
Graveside services for Kelly Blair Morris, 22, who died December 16th in a motorcycle accident near Portland, Victoria, Australia, will be at 2:30 pm tomorrow in Citizen's Cemetery at Clarendon. Officiating will be the Rev. J.B. Fowler, pastor of St. Stephen United Methodist Church, and the Rev. James E. Uselton, former assistant pastor. Arrangements are by N.S. Griggs and Sons Funeral Directors.
Memorial services for Morris, a drama graduate of Flanders University in Adelaide, Australia, were held there after the accident.
He had completed his senior year at Flanders and was student union director when he died.
Mr. Morris graduated from Tascosa High School in 1972. He was an Eagle Scout and a Methodist. He served as president of the district Methodist Youth Foundation in 1971-72 and was active in the Democratic Party.
Survivors include his mother, Mrs. Patsy Blair Heflin of 5318 Randolph, his stepfather, Robert Frank Heflin of the home address, a brother, John Miller Morris Jr. of Austin and a grandmother, Mrs. Frank A. Blair of 1907 S. Cherry.